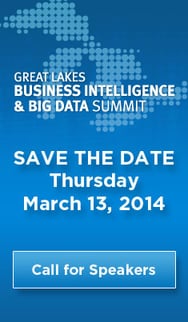 WIT is proud to announce that the 2nd annual Great Lakes Business Intelligence and Big Data Summit will return on March 13, 2014 to the Detroit Marriott Troy. We are currently accepting proposals for presentations.
In its inaugural year, the Summit was attended by nearly 200 of the area's top business and technology leaders from companies of all sizes from all over Michigan and Ohio. The agenda for the event included business case studies, software vendor presentations, and included keynotes from industry leaders Wayne Eckerson and Donald Farmer. Eckerson, formerly of The Data Warehouse Institute (TDWI) talked to audiences about "The Big Data Revolution." Farmer, formerly one of the BI thought leaders at Microsoft, and now the chief product advocate at QlikView, discussed the impact of "Agile BI" on business.
For the 2014 event, the planning committee is evaluating presentations around any of these BI-related themes:
BI Case Studies/Success Stories
Agile BI
Big Data
BI in the Cloud
Data Governance
Data Visualization
Mobile BI
Other Innovations
Speaker proposals will be accepted through December 2, 2013. Proposals should be submitted online at http://surveymonkey.com/s/greatlakesbisummit-callforspeakers.
For information on the 2014 Summit, please visit greatlakesbisummit.com.