SOLUTION
With the support of WIT and UiPath, our client deployed an attended RPA script developed to manage and process incoming invoices from suppliers
INDUSTRY
Automotive Manufacturing
FUNCTION
Invoice Processing
Geography
Southwest Michigan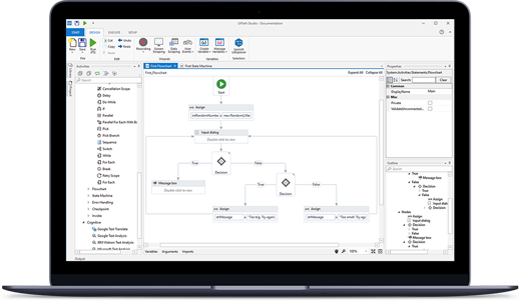 BACKGROUND
This manufacturer is a global automotive industry components and parts supplier, primarily known for its powertrain products. It is an American company with dozens of manufacturing plants in various countries.
OPPORTUNITIES
Like many automotive suppliers, purchasing functions are largely distributed across many manufacturing plants. Each location typically has one or more purchasing analysts that receive invoices from suppliers on a daily basis via email.
The invoice processing function can be highly complex and manual. Analysts must search through emails to identify and classify invoices. Invoices are then detached, opened, verified that they are not duplicates, validated for payment terms, and then manually entered into an ERP for processing (in this case, SAP). This process can be time-consuming, often tedious, and can result in errors. Key opportunities to address in the project include:
Provide an automated process that can be triggered by a purchasing analyst

Identify and filter out incoming invoices within email inboxes

Apply business rules and data cleansing procedures, combining and preparing the data for input into an SAP system for processing

Perform validation checks and notifications
SOLUTION
Having already acquired UiPath Robotic Process Automation (RPA) software to support other finance process automation initiatives, and familiar with its value, leadership within the manufacturing organization identified the invoice processing opportunity.
With development assistance from WIT, key elements of the automated process include:
Provide an attended RPA process that can be triggered by a purchasing analyst, which can process invoices quickly and efficiently, and be monitored for quality

Identify and filter out incoming invoices within email inboxes, focusing on certain types of standard invoice formats that can be automated effectively

Apply business rules and data cleansing procedures, combining and preparing the data for input into an SAP system for processing

Login to the SAP user interface and enter the invoice data to mimic the iterative tasks that the analyst would typically perform

Provide notification that the process was executed effectively and without errors
OUTCOMES
The purchasing analysts at one of the manufacturing plants were the first users to adopt the attended UiPath bot. Key outcomes include:
Common invoice types processed daily can be triggered on-demand

Automation of what would have otherwise been a highly manual effort, improving effectiveness on a daily basis

Deployment of more effective quality control checks into the process with build-in validation checking

Ability for purchasing analysts to focus on more high-value processes and can be cloned to work in other facilities with similar processes

Plans to roll out to multiple manufacturing plants globally, with potential savings of thousands of work hours annually