The Value of Data Visualization and Dashboarding Tools is Clear
We have all heard it…the world runs on data. In a rapidly evolving world where data is continually transforming how organizations identify new ways to improve their competitive position and sustainability within it, applying analytics to data has not only become beneficial, but essential in their endeavor. And according to the National Center for the Middle Market, data analytics play increasingly vital roles in firms of all sizes and in nearly every industry.
WIT's inaugural 2022 Great Lakes State of Analytics Benchmark StudySM was developed to provide upper mid-market organizations an understanding around how businesses utilize and analyze the various streams of data they generate, and how that data is used to make key decisions.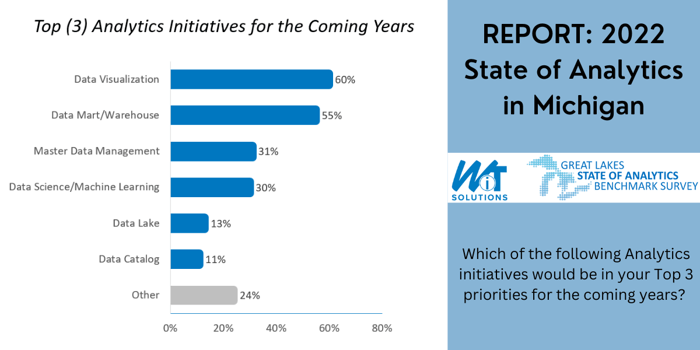 The following are some of the key findings of the 2022 study:
Nearly ALL companies utilize analytics in some form: While this comes as little surprise, what is surprising is that there are companies that still don't have a team or resource specifically for analytics. Further, among the 70% of companies that report utilizing analytics somewhat extensively, the same holds true—no dedicated resource for analytics.
Data visualization and dashboarding STILL a priority: Nearly all companies surveyed report that they use data visualization/dashboard tools for their analytics needs, yet still 60% report that this remains their number one priority for the coming years—about twice that of other analytics initiatives reported. This clearly demonstrates the value these tools bring, as the challenge to connect the dots grows with a continually growing data set.
The 2022 Great Lakes State of Analytics Benchmark StudySM is based on online interviews of business professionals from upper mid-market organizations headquartered in the state of Michigan. A total of 135 surveys were received in total, from which 100 surveys met methodological requirements.
For more information about the results of the 2022 Great Lakes State of Analytics Benchmark Study, download the full report.
About WIT
WIT is an analytics and automation consulting firm, which celebrated its 25th anniversary in 2021. WIT helps clients build solutions to maximize the value of their data and analytics assets, and automate key business processes. In partnership with elite software companies, WIT's capabilities span a broad spectrum of business functions and industry verticals. For more information, visit www.witinc.com