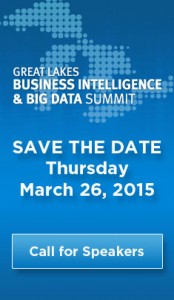 WIT is pleased to announce that we are accepting proposals for the 2015 Great Lakes Business Intelligence and Big Data Summit, which will take place on March 26, 2015 at the Somerset Inn of Troy, Michigan.
We are seeking qualified speakers who want to share their expertise and success stories to more than 250 business and technology professionals from across the Midwest.
Suitable speaking topics include, but are not limited to the following:
• Business Intelligence (BI)
• Agile BI
• Big Data/Hadoop
• BI in the Cloud
• Data Governance
• Data Visualization
• Mobile BI
• Predictive Analytics
Interested in being a 2015 Summit speaker? Submit a proposal online here by December 15, 2014.
For more information on the 2015 Summit, please visit www.greatlakesbisummit.com.