The sun was shining and the wind was soothing in Orlando, FL at the Qlik Qonnections worldwide user conference, where some of us from the WIT team came to soak in all of the bright green virtues of Qlik. With over 3,000 in attendance, it was a high-energy conference with days jam-packed with sessions, and evenings full of fun after-hours activities. We all had fun and there were plenty of libations flowing. I would have shared the amusing details, but my colleagues who sworn me to keep it as a secret for eternity!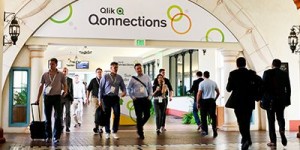 My biggest take-away from this year's Qonnections conference was the sharp focus on the "One Qlik Platform". For those who are not familiar with the history, let's go back a couple years when QlikTech was trying to build the Qlik Sense platform. Back then, QlikView was the workhorse of the company and they were coming under immense pressure to position the product against the competition. Instead of developing on the existing product, QlikTech decided to keep the same QlikView engine, but developed a whole new interface using well established web-based technologies, called Qlik Sense. In doing so, they developed a framework in which APIs were created at every level of the product. As a result, now you can interact with the product using almost all well-known programming languages. Following the success of open platforms like Android and iOS, Qlik was hoping that developers all around the world would take advantage of this open platform and create something truly wonderful.
Under the unifying theme of a "One Qlik Platform" – we saw a variety of exciting new features and products Qlik will be focusing on in the near future.
Updated visualizations
Mobile access and deployment
Newly acquired products like NPrinting and GeoAnalytics
Seeing Is Believing
Qlik Sense has been offering this powerful feature of integrated widget development. At Qonnections, the latest version of Qlik Sense was revealed with details about the new features like new visualizations. Because of innovative nature of APIs on the Qlik Sense platform, Qlik is about to offer a new chart framework called picasso.js which will help to ease the creation of custom visualizations. To encourage new ideas like these, several sessions were designed to get more developers into the API development framework.
On the Move
Qlik seems to be investing in their mobile platform. At Qonnections they revealed that Qlik Sense is now able to port the QIX engine to mobile devices. As a result, users can now download the entire application and take it along with them anywhere they want. The offline analytical capability on mobile devices seems to be a well thought-out feature. I predict it will be one of the most widely used features in the next couple of years.
New Apps on the Block
Qlik has been working to improve their add-on products - like GeoAnalytics and NPrinting17 - that can offer supplemental capabilities to its customers. It seems as if they were hard at work in integrating the product into the platform. As a result, now we can access NPrinting reports in the Qlik Sense hub. That's a welcomed change! They also enhanced NPrinting with the new web portal called 'Newsstand'. We are glad to find these developments and look forward to deploying them against appropriate use cases.
Some of the new acquisitions - such as GeoAnalytics - seems to be in the infant stages of integration. Maybe in the next couple of months, we will see a lot more from these new products.
Overall, Qlik is keeping up the pace of developing products and features to satisfy all the emerging demands in the market. Some of these efforts are still evolving, but seem to offer a promising future. We would have loved to see more details on company's flagship product QlikView. Interestingly, the discussions on QlikView were brief. Considering the number of existing implementations of QlikView, we expected more. Nevertheless, we hope Qlik will continue to keep both QlikView and Qlik Sense in sync. All in all, we got a good understanding of where Qlik will be in next two years, and we all have a lot to consider for our customers.
- Pauljin Kochupyloth, Senior Business Intelligence Consultant at WIT
To learn more about Qlik products and WIT's professional consulting services, please visit our Qlik Consulting page.