Qonnections as you all might have heard, is a premier business intelligence event which brings data enthusiasts, BI luminaries and analytic shops together to share, learn, laugh, and network. The four-day event hosted by Qlik took place at the scenic Gaylord Palms Convention Center in Orlando, FL was focused on providing customers and partners with the knowledge and best practices they need to use Qlik productively. I have attended in years past, and 2017 did not disappoint! We got to see the "Who's Who" in the Qlik world from various parts of the globe and interacted with sponsors and vendors with booths to display the cool futuristic solutions they had developed using the Qlik platform. The highlights were interesting insights from keynote speakers such as Lars Bjork – Director General of Qlik, Alan Jacobson – Director of Global Insights and Analytics at Ford Motor Company, Ray Wang – Sr. Analyst, Founder and President of Silicon Valley Constellation Research Inc., and many more.
The tracks were a well-balanced mix of product demos, tech talks, success stories, data scientist takeaways, and upcoming delights Qlik has in store for the future. I felt that the primary focus was on the Qlik Analytics Platform and the new Qlik Sense June 2017 release, so I will provide some highlights on both.
Qlik Analytics Platform
Qlik Analytics Platform (QAP) is the developer platform that lets you easily develop, extend and embed visual analytics in your extranet or intranet apps and portals with a common governance and security framework. It gives you full API access to the Qlik Engine to build rich analytics applications. The APIs are built to work with most updated web technologies. The framework provides the developers flexibility to embed Qlik's visual analytics capabilities into their applications. These can be as simple as web mashups containing just a few charts or much more complex web applications or extensions.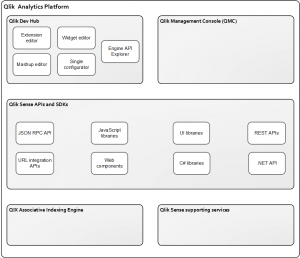 Components of the Qlik Analytics Platform:
Qlik Management Console (QMC) and Dev Hub
Qlik Sense APIs and SDKs
Qlik Engine and Qlik Sense Supporting Services
QAP, just as the Qlik Sense Server, is built off the QIX Engine, the unique associative indexing engine that put Qlik Sense on the map and has recently been integrated with QlikView 12. This means most of the basic functionality is identical.
Qlik Sense June 2017 Release
Another important update was the announcement of the Qlik Sense June 2017 release and the updated release model for future versions of the software. As per the new naming convention, services releases will now be called "patches". Every service release will be supported for 2 years. Future Qlik Sense releases will include the release month year instead of a number as illustrated below with other release dates.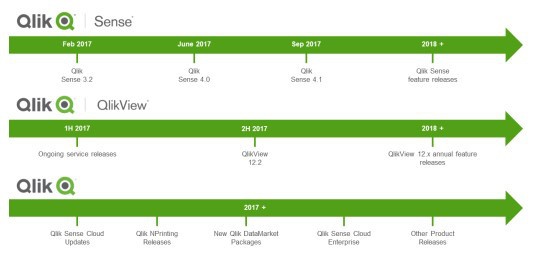 Following are some of the exciting new features that will be offered in the Qlik Sense June 2017 release:
New Visualizations: Powerful charts like Box Plot, Histogram, Distribution Chart
Advanced Analytics: Integration with R and Python
Color Intelligence: Consistent color value or color scheme to master dimensions. Persistent colors can be applied for each dimension value
On-Demand App Generation: Provides the overview of full data (especially Big Data) and then the ability to zoom into small subsets based on selections
Big Data Indexing:

Expanded abilities for indexing and analyzing Big Data
Full associative model for Big Data sources
Supplements the QIX engine with binary indexing of resident data lakes and sources like Hadoop
Fast and interactive discovery while still providing access to underlying detailed data
Incremental indexes - reference to rows returned, only new rows on refresh
Reusable indexes across apps
Although not a lot was disclosed about QlikView 12, there were a lot of table discussions around the fact that support for QlikView 11 will soon be ending and whether moving from 11 to 12 would be a smooth transition. The Grand Finale' was like an icing on the cake with the live band. It was fun to watch the presenters and all the data gurus sway to the tunes of the 80's. The lip sync battle was a perfect way to conclude the conference.
- Amit Deshpande, Senior Business Intelligence Consultant at WIT
To learn more about Qlik products and WIT's professional consulting services, please visit our Qlik Consulting page.
Please LIKE and FOLLOW us!